Trak Racer RS6 Sim Racing Cockpit + Triple 22"- 34" Monitor Stand BUNDLE
---
This bundle includes the Trak Racer RS6 Sim Racing Cockpit AND a Trak Racer Triple Monitor Stand for 3 TVs/Monitors between 22" and 34"
Trak Racer RS6 Mach 3
The Trak Racer RS6 Mach 3 is a fantastic Sim Racing Cockpit, finished in stylish Matte Black. This third-generation (Mach 3) RS6 features a number of improvements, making the RS6 a very good rig for the price. 

The updates to the RS6 have improved it substantially, from what was already a good product. The new Seat is much improved from before: it is more durable, so it is most resistant to wear & tear, and more comfortable, so it reduces fatigue during long sessions (and is more comfortable in general). The frame/chassis of the RS6 is designed to be strong, so it will be stable during gameplay, even when using powerful FFB wheels.
The RS6 includes a Left/Right side Gear Shifter mount as standard (this is an additional accessory on many other Sim Racing Cockpits), and all of the components are highly adjustable, including the adjustable Pedal mounts, Seat mount, Left/Right side Gear Shifter mount, and the fantastic Multi-Point Steering Wheel Mount. These super levels of adjustability allow people of all different heights and sizes to find their perfect driving position, so you are able to focus fully on racing, and not be distracted by uncomfortable seats or wobbly mounts. The Trak Racer RS6 Mach 3 is a good Sim Racing Cockpit: strong, very adjustable, and with a Gear Shifter mount included and lots of extra accessories available. 

Trak Racer Triple Monitor Stand
Adding Triple Monitors to your setup absolutely transform your simulation experience, massively increasing the levels of immersion and visual authenticity (monitors sold separately). They are a truly fantastic investment for any sim racer and we thoroughly recommend them. Most buyers chose the 22" - 34", because standard triple monitor setups use 32" monitors; using larger monitors is better, but takes up more space and is much more expensive, so that's why this is our best selling monitor stand size. 
Why not also consider:
RS6 + Triple 34" - 45" Monitor Stand
RS6 + Single 22" - 70" Monitor Stand
Or, would you prefer the Trak Racer TR8, the 'bigger brother' of the RS6, which has an integrated TV/Monitor Mount included!






Trak Racer RS6 Mach 3 Cockpit with GT Style Seat



Trak Racer RS6 Mach 3 Updates
By gathering feedback from the RS6 MK2 we have released the updated MK3 which the following improvements and improvements to packaging to ensure the item reaches you as it should.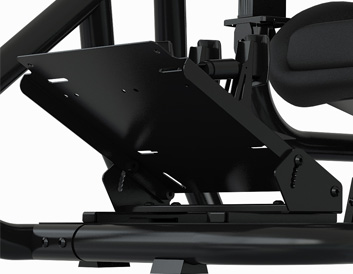 Pedal Plate
An additional frame was added to the underside of the pedal plate to increase rigidity.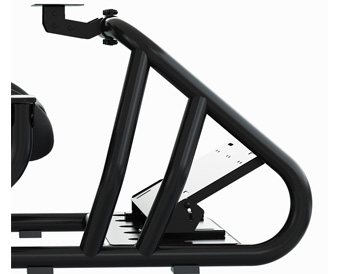 Wheel Support
Gussets, materials and wheel mount thickness we all upgraded to a thicker material.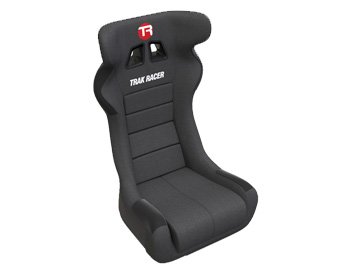 Fiberglass Seat
The new seat present in a higher standard in regards to finish and supports up to 38" waist
Trak Racer has Featured In

Trak Racer RS6 Mach 3 Dimensions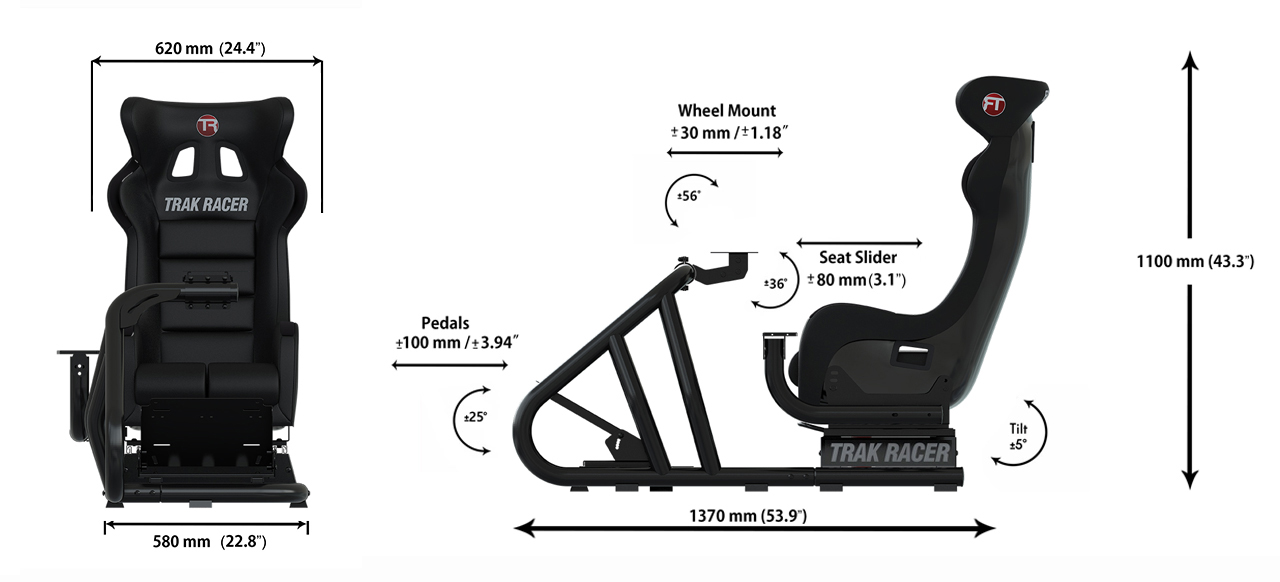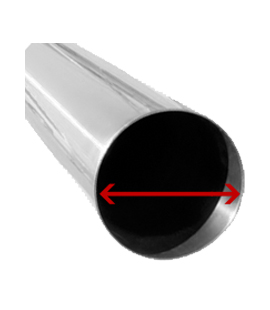 Rock Solid Construction
The chassis of the RS6 is constructed from 2" diameter (50.8mm) iron tubing.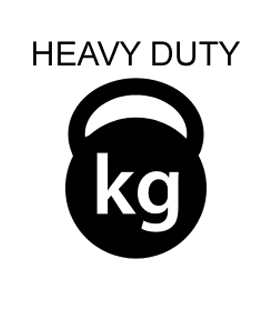 The Strength is in the Materials Used
The RS6's strength sets a new standard and it's weight confirms it at a heavy 37kgs (with seat).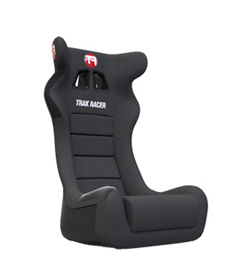 Fibreglass GT Style Race Seat
Trak Racer have taken a real race car seat and added additional padding to reduce fatigue during a long session.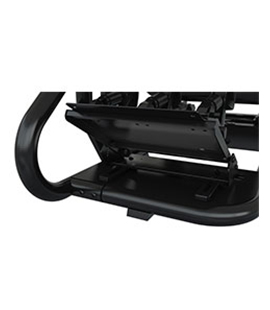 Adjustable Pedal Mount with Slider
The adjustable angle and slide allows you to position your pedals to the perfect position.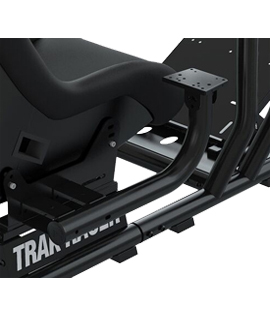 Left or Right Side Gear Shifter Mount
The adjustable angle and slide allows you to position your shifter to the perfect position.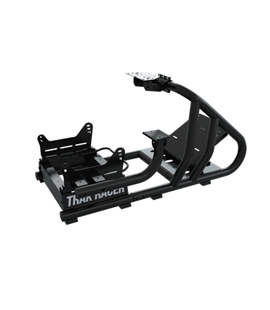 Small Footprint & Suitable for All
The RS6 has been designed for both large and small spaces however suitable for all heights.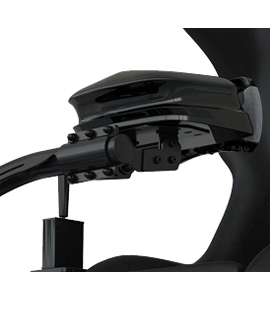 Adjustable Steering Wheel Mount
Adjust the angle of almost any wheel to suit your perfect driving position. Wheel not included.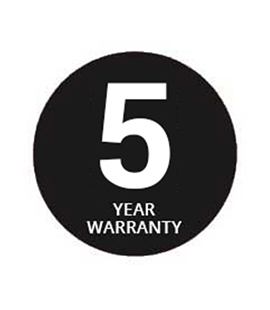 Unbeatable 5 Year Warranty
The RS6 has been put through the most harsh treatment and guaranteed to last for years.
Reinforced
2" Iron Chassis
The RS6's 2" Iron Construction will ensure stable Game Play with Direct Drive Wheels and more. Following the launch of the RS6 Mach 1, we found many of our clients that purchased also had a high-end wheel. What we did was add an extra support, increase welding and increase material thickness.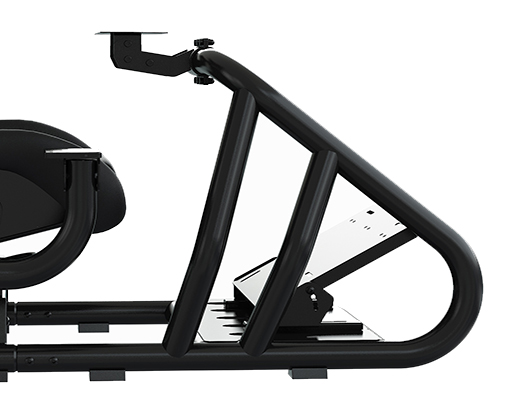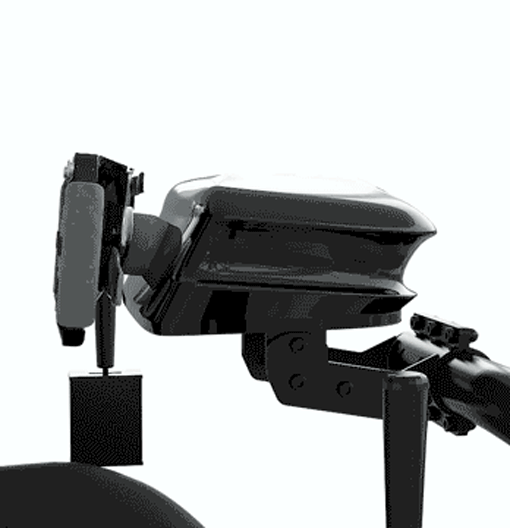 Upgraded
Multi-Point Wheel Deck
Bolted to the chassis with 8 Screws, the Wheel Deck on the upgraded RS6 will prove to be the strongest amongst it's competition. After it's stability, the Wheel Deck is the stand-out feature of the RS6 with height adjustment, the ability to slide 30mm for the perfect grip and angle adjustment to give you the most comfortable driving position. Pre-drilled mounting points for all the major brand wheels including Accuforce, Fanatec, Logitech, Thrustmaster and more.
Strengthened
Adjustable Pedal Deck
The RS6 Pedal Deck gains it's strength from the frame on the underside of it. It's adjustable with it's sliding feature up to 100mm and has angle adjustment for the most comfortable driving position of any simulator on the market. Pre-drilled mounting points for all the major brand wheels including Fanatec, Logitech, Thrustmaster and more.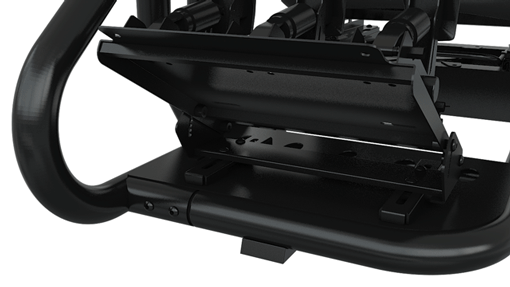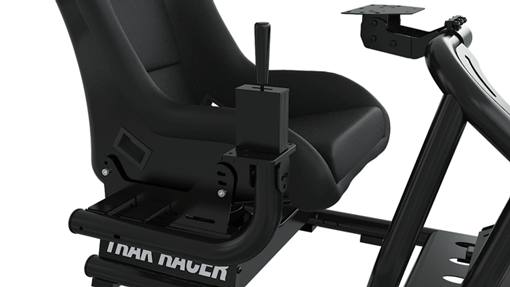 Improved
Left/Right Side Shifter Mount
The included shifter mount incorporates 2-point-slide and angle adjustment functionality. Pre-drilled mounting points for all the major brand wheels including Fanatec, Logitech, Thrustmaster and more.
Seat not included.
Solid Wheel and Pedal Plates
Trak Racer know you hate movement during game time which is why our cockpits have been designed and tested alongside the worlds strongest and most professional peripherals on the market.
Trak Racer RS6 Pictured with Heusinkveld Pro pedals (not included).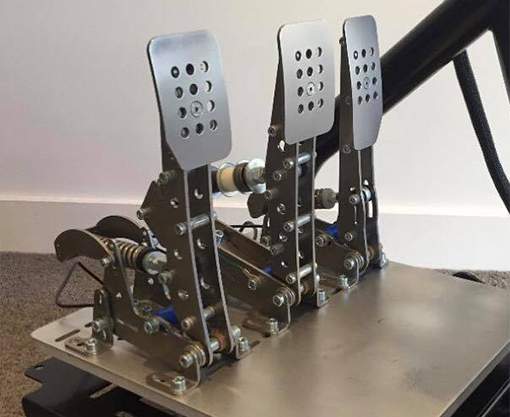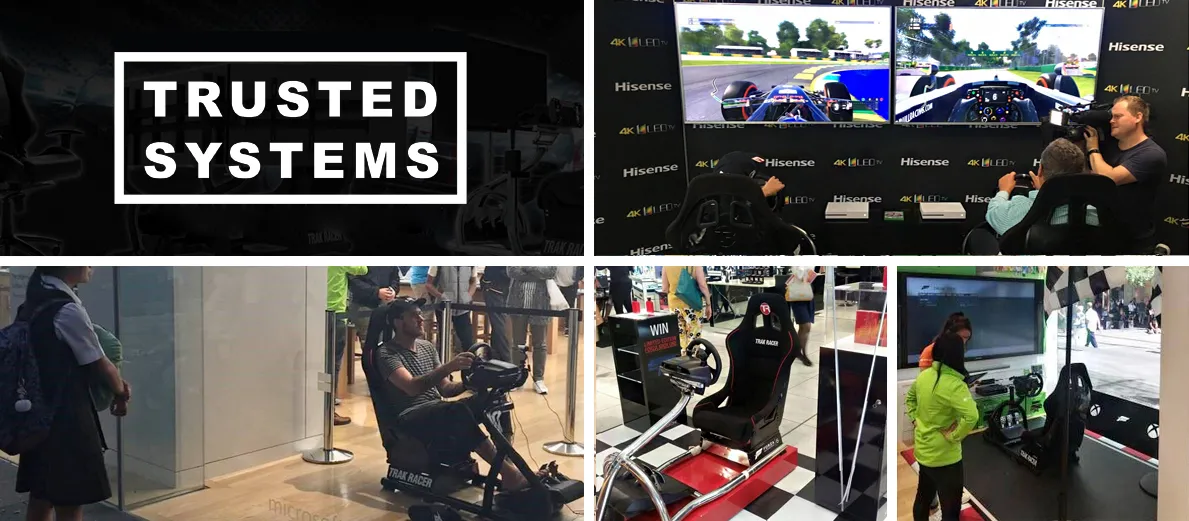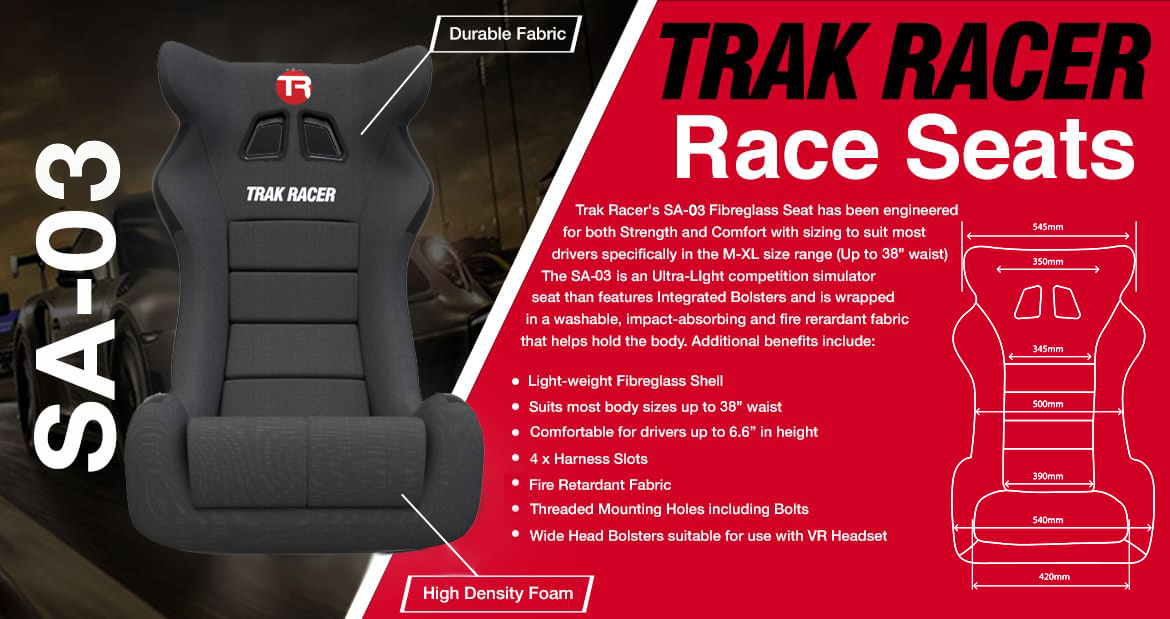 Trak Racer RS6 Mach 3 Key Overview
Compatible with PC and Console
Compatible with all popular steering wheels, pedals and shifters on the market
Improved

 

Left and Right Side Gear Shift mount with pre-drilled mounting points and slide
Reinforced

 

Angle and Distance Adjustable Pedal Mount, suitable for all the big brands!
Upgraded

 

3-Point adjustable steering wheel mount with slide
Superior build quality, stability and comfort
Designed and Engineered in Australia
Frame/Chassis Features
Solid framework with no obstruction between your legs and no wheel side supports required
580mm wide for firm stance when racing
Low ground clearance with hard wood rubber floor protectors
Finished in 2"(51mm) high-grade Iron tubing
Cable concealment holes allow you to run cables inside the tubing
Fibreglass GT-Style Race Seat Features
Premium race-ready high grade seat with hard back
Adjustable driving position seat
Ergonomically designed for extended periods of use
High density foam construction
Weight Restrictions: Up to 160kg (352 lbs)
Seat Sliders Included
Adjustable Wheel Mount Features
Solid construction
Pre-drilled mounting points for all major brand wheels
3-Point Adjustment allows you to adjust the height and angle of the mount
Patent design
What's Included
Fiberglass Race Seat
2" Industrial Strength Iron Chassis
Fully Adjustable Angle Pedal Mount with Distance Slider
Premium Seat Sliders
Left/Right Mounting Gear Shifter
Angle,Slide and Height Adjustable Wheel Mount
Tools and screws included
Assembly Instructions
Trak Racer RS6 Compatibility
Trak Racer has become renowned for both it's strength and compatibility with all the top brand gaming peripherals on the market.Wheel, Pedals, Shifter and Handbrake are not included unless mentioned in the description.




No Feature has been Spared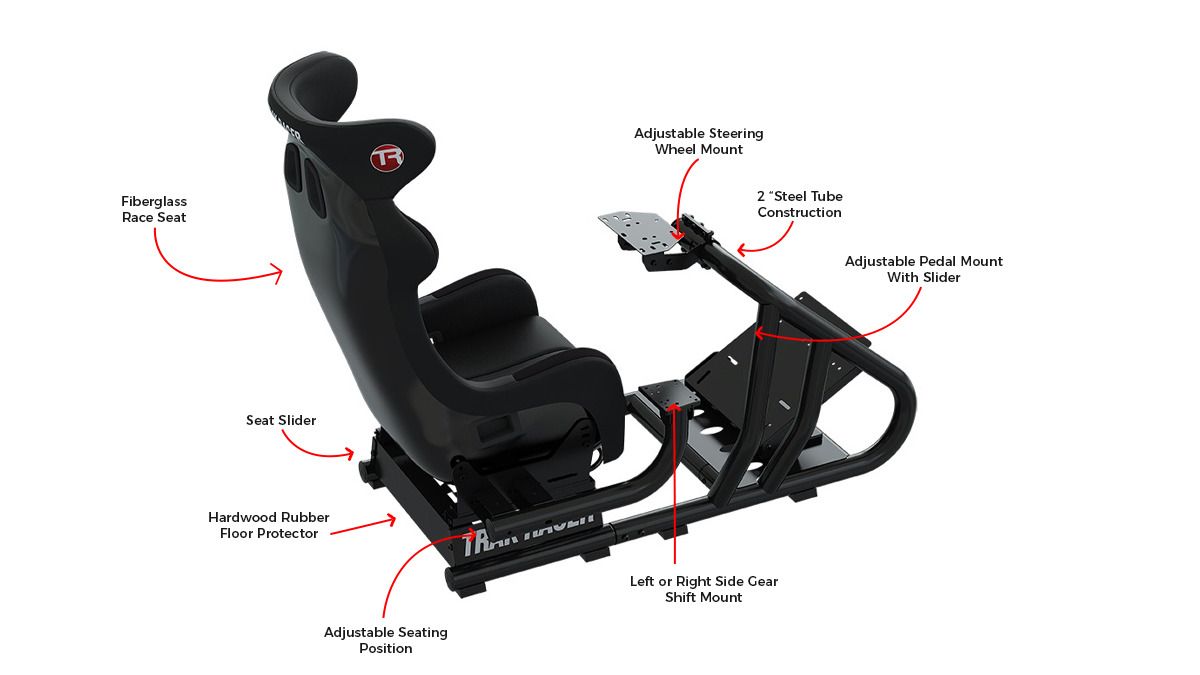 Specifications Table