PRE-ORDER
FREE UK Delivery!
The Rseat Formula V2 is a stunning premium single seater style rig, which is perfect for all fans who want an authentic single seater racing position, instead of the majority of rigs which offer a more traditional GT-position.

The unique design make this rig the easiest way to feel as formula driver. Now with Seat sliders. Available Add-on kits: Keyboard and mouse tray, speakers mount upgrade kit, Buttkicker Mount Upgrade kit. Plastic gromets in black and yellow provided. You can replace the black stock gromets with yellow. The lying position of the seat make this rig suitable for long races and give the user stability and control over the wheel and pedals. The wheel plate is predrilled for the most common high end wheels on the market. Accessories: Single tv stand for up to 65″ TV (RS STAND S3 V2) and triple stands for up to 3×47″ (T3L V2 for up to 3x32 inch TVs and T3XL V2 for up to 3x47inch TVs)
 
Specification
Support PC, PS3, PS4, XBOX, XBOX One, Wii and more..
Footprint dimensions: L/W/H 1950-2150 mm. x 620-1300 mm. x 980 mm. (75.59" - 84.64") x (24.40"-51.18) x 38.58"
Fully adjustable pedals support
Fully adjustable wheel support mount
Ultimate stability at any point of the rig including wheel mount, pedal plate and seat.
Applicable for users from 150cm (4'11″) up to 200cm+ (6'67″+)
Seat carry weight up to 130kg (286 lbs)
No wheel deck or pedal plate wobble!
Very quality materials used.
Seat is highly wear resistant
RS Formula V2 comes with seat sliders included.
Made in EU.
 
Available Upgrades
1. Keyboard and mouse tray. All way adjustable including angle, tilt and height.
2. Buttkicker mounting kit. Support Buttkicker ™ Gamer 2, Pearl ™ THMP1
3. Speakers Mounting kit. Logitech Z906 Supported and more..
Additional upgrades include TV/monitor stands for up to 3x47inch tv's.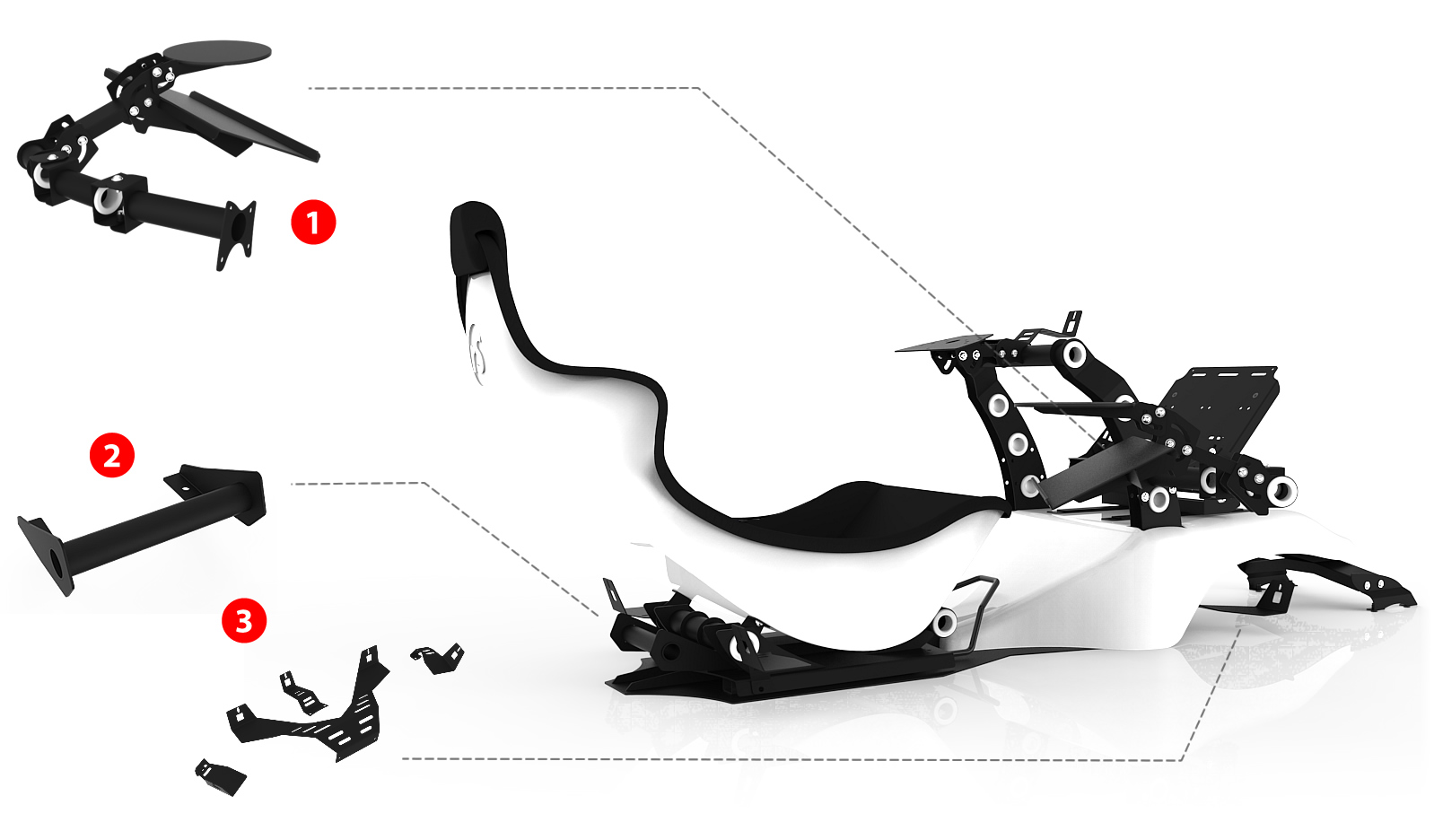 The Seat
Seat shell made of composite materials and finished in gloss black.
Leather comes in Black leather
Seat Sliders
Seat is designed to replicate formula car seat
Seat slides front-back ±120mm (4.72inch)
Highly wear resistant suitable for game race centers.
Headrest included.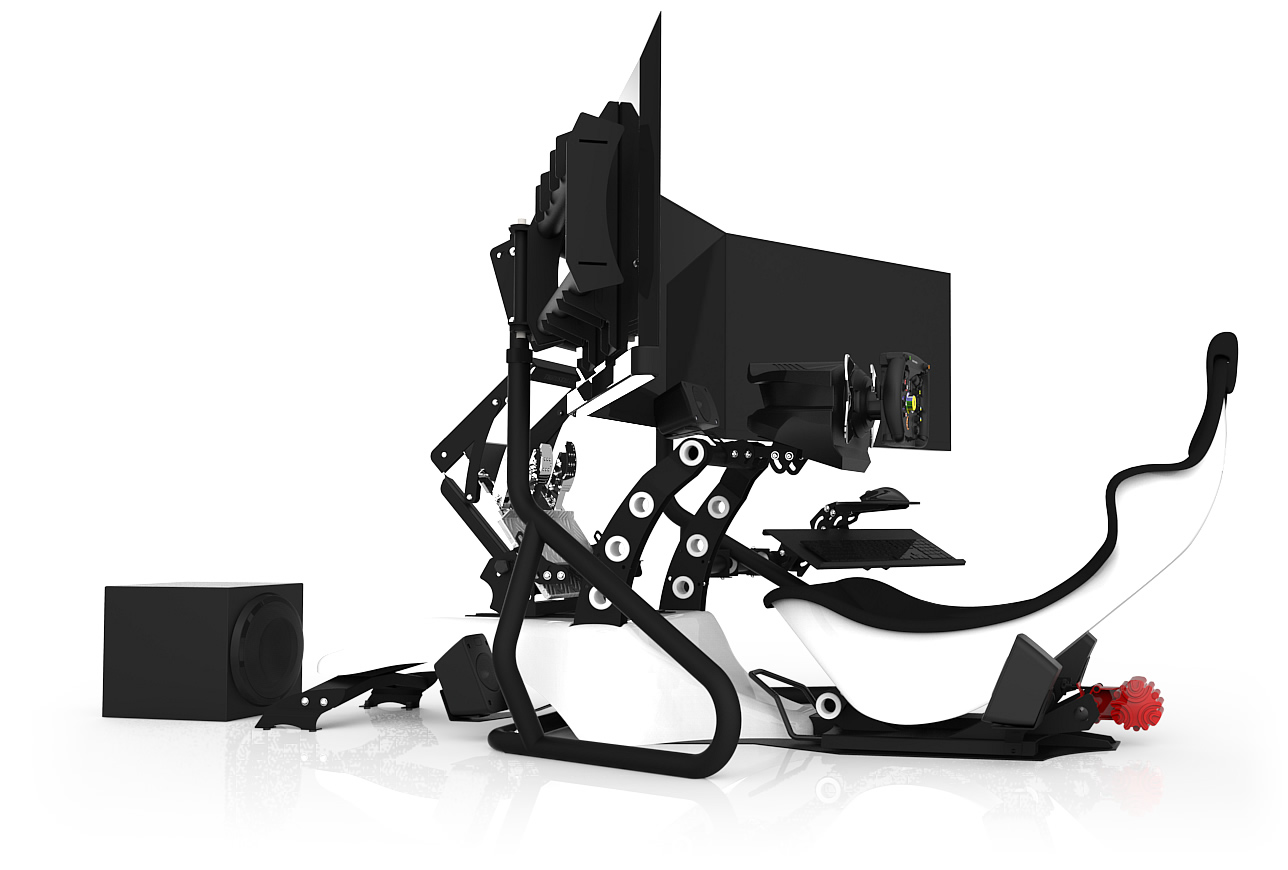 Chassis
Made of Laser cut carbon steel and cnc bended round tubes.
Comes in Black matte powder coat paint.
Frame step on the ground by 10 plastic feets (20mm diameter each).
Total height (with the seat): 980 mm (38.58")
Total width: 620-1300* mm (24.40"-51.18) (*with the keyboard/Mouse tray)
Lenght: 1950-2150 mm. (75.59" - 84.64")
Pedal plate width 350 mm. (13.78")
Pedal plate adjust from full flat up to 60°
Whell mounting plate allow to adjust height of the wheel ±8 cm (3.15")
Slide pedals front-back ±160mm (6.23inch)
Net weight:

 

60 kg (132.27)

Gross weight 70 kg (154) The RS Formula with the packaging.
Box dimensions L/W/H 119cm x 65cm x 65cm (46.9" x 25.6" x 25.6")

Keyboard / Mouse tray

 

Upgrade Kit
Made of laser cut carbon steel and round tubes.
Fully Adjustable in hight, tilt and possition.
Comes assembled from the factory.
Comes in black matte powder coat paint.
Keyboard tray dimensions 500 mm. x 205 mm. (19.68" x 8.07")
Mouse tray diameter - 200 mm. (7.87")
Weight: 6kg (13.23 lbs)

Buttkicker® Mount  Upgrade Kit
Support Buttkicker ™ Gamer 2 and Pearl ™ THMP1

Speakers Mount  Upgrade Kit
Support Logitech Z906 5.1 Sound system


Hardware
All tools and screws to attach your Wheel, pedals and shifter are provided.
Detailed assembly instructions.

24×7 Support
We provide 24×7 on site support through ticket or live-chat.
Distributor network allow to have full support in your area.
If you have any questions, please contact us by Email (sales@upshiftstore.co.uk),  Call 0333 577 1242

 to speak to an Expert Sim Racer, or use our

Live Chat or DM us on Messenger to chat with an Expert Sim Racer - our Sim Racing Experts are here to help you!
run By Sim Racers, For Sim Racers
Upshift is run By Sim Racers, For Sim Racers! Our team of Expert Sim Racers are here to help you with any questions you have!
FREE & FAST delivery
FREE UK delivery on all in stock items. Fast dispatch so your order arrives quickly and in perfect condition.
secure 256-BIT SSL
Shop safely. We have 256-bit SSL protection so all your payments are 100% secure