Extra version of the shifter mounts included with the RS6 Mach 2, so this will mean you have 2 mounts. Adjustable and slideable along the base - perfect for mounting multiple pieces of equipment on either side of the rig.
Shifter, Handbrake and Flight Sim Upgrade Mount for 8020 Rigs and Trak Racer RS6 Mach 2 onwards / RS8 Mach 6
Mounts both Left or Right Side on the 2nd Generation Seat Brackets only (found on RS6 MK2 and RS8 MK6 onwards)
The Original Trak Racer Shifter Mount allows you to change the side of the gear shifter to suit your driving preference.
Compatible with all top brands of Shifter, Handbrake and other controllers 
Shift Mount can be installed on both Left or right side of Trak Racer chassis'
Painted in Matte Black Paint
Adjustable slider function and angle adjustment
With Handbrake mounting plate (requires additional brake mount)
Consists of Solid Shift Stem and Adjustable Top Mount
Suitable for 8020 Aluminium Rigs, Trak Racer RS6 Mach 2 and RS8 Mach 6 onwards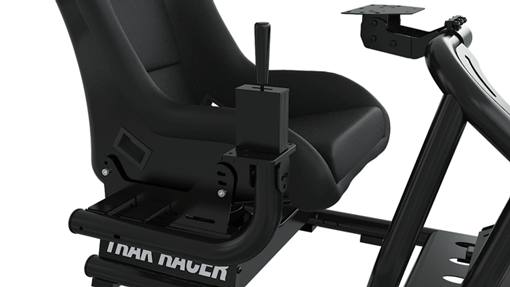 Improved 
Left/Right Side Shifter Mount
The included shifter mount incorporates 2-point-slide and angle adjustment functionality. Pre-drilled mounting points for all the major brand wheels including Fanatec, Logitech, Thrustmaster and more.
If you have any questions, please contact us by Email (sales@upshiftstore.co.uk),  Call 0333 577 1242

 to speak to an Expert Sim Racer, or use our

Live Chat or DM us on Messenger to chat with an Expert Sim Racer - our Sim Racing Experts are here to help you!
run By Sim Racers, For Sim Racers
Upshift is run By Sim Racers, For Sim Racers! Our team of Expert Sim Racers are here to help you with any questions you have!
FREE & FAST delivery
FREE UK delivery on all in stock items. Fast dispatch so your order arrives quickly and in perfect condition.
secure 256-BIT SSL
Shop safely. We have 256-bit SSL protection so all your payments are 100% secure