FREE UK Delivery
FREE Click & Collect from our Showroom
IN STOCK NOW - IMMEDIATE DISPATCH
The newly-updated 3rd generation of the Trak Racer TR8 is Trak Racer's response to the growing popularity of Direct Drive wheels. Though all Trak Racer rigs are strong, the TR8 takes that core strength and upgrades it, meaning the TR8 is capable of handling Direct Drive wheels, with minimal flex. We think the TR8 is a really good looking rig; in this version, the Trak Racer TR8 Mach 3 Cockpit with Monitor Stand and Rally Style Seat, you get the TR8 frame finished in matte black with integrated monitor stand and Trak Racer's popular Rally Style seat. This seat is perfect for VR users, and users who want a larger more accessible seat. It is recommended for individuals up to 38 inch waist. Included with the TR8 also is a gear shifter mount, and the integrated single monitor stand for very large monitors up to 70 inches in size (perfect if you have a large monitor/TV or an Ultra Wide Gaming Monitor).
The TR8 is an absolutely fantastic (and very popular) sim rig - it is so versatile: strong, adjustable, great value for money, and Direct Drive ready, all at a very competitive price! 
 
Manufacturer description:
Trak Racer TR8 Overview
Direct Drive & Belt Drive Wheel Ready!
Compatible with PC and Console
Compatible with all popular steering wheels, pedals and shifters on the market
Stiffened Dual-Supported NO FLEX Wheel Shaft
Integrated Single Monitor Stand to support displays up to 70" (Triple Display Stand Optional)
Patented 3-Point adjustable steering wheel mount with slide
Superior build quality, stability and comfort
Improved Left and Right-Side Gear Shift mount with pre-drilled mounting points and slide
Reinforced Angle and Distance Adjustable Pedal Mount, suitable for all the big brands!
Designed and Engineered in Australia.
Trak Racer TR8 Mach 3 Updates
The updated TR8 Mach 3 which the following improvements and improvements to packaging to ensure the item reaches you as it should.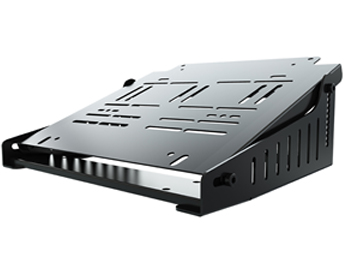 Pedal Plate
An additional frame was added to the underside of the pedal plate to increase rigidity.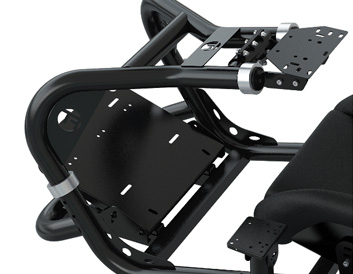 Wheel Support
Gussets, materials and wheel mount thickness we all upgraded to a thicker material.

Rally Style Fiberglass Seat
The new seat present in a higher standard in regards to finish and supports up to 40" waist.


Frame/Chassis Features
Solid framework with no obstruction between your legs and no wheel side supports required
580mm wide for firm stance when racing
Low ground clearance with hard wood rubber floor protectors
Finished in 2"(51mm) high-grade Iron tubing


Integrated Single Monitor Stand Features
Adjustable Design allows you to swivel the display for use between sim racing and using it as a TV stand
VESA Mounting Bracket for 100mm and 200mm Display mounting points
Optional – Triple Monitor Mount
Optional – Large VESA Extension Mounts


Fibreglass GT-Style Race Seat Features
Premium race-ready high-grade seat with hard back
Adjustable driving position seat
Ergonomically designed for extended periods of use
High density foam construction
Weight Restrictions: Up to 160kg (352 lbs)
Seat Sliders Included


Adjustable Wheel Mount Features
Solid construction
Pre-drilled mounting points for all major brand wheels
3-Point Adjustment allows you to adjust the height and angle of the mount
Patent design


Adjustable Pedal Mount Features
Fully adjustable bracket for both angle slide
100mm forward/back sliding mount
Welded steel frame on the underside of the mount for added strength
Pre-drilled mounting points for all major brand pedals including


Reinforced Left or Right-Side Mounting Gear Shift Mount Features
The Distance Slider mount allows you to adjust the position of the mount to the most ergonomic position for you
Angle Adjustment enabled you to face the shift mount inwards, flat and outwards for customised adjustability
Pre-drilled mounting points for all major brand shifters including Thrustmaster TSS Mod, Fanatec Clubsport and more
Optional – Integrated Handbrake Mount


What's Included
2" Industrial Strength Iron Chassis
Single Monitor Stand Mount
Fully Adjustable Angle Pedal Mount with Distance Slider
Premium Seat Sliders
Left/Right Mounting Gear Shifter
Fibreglass Race Seat (SA-04 rally style)
Angle, Slide and Height Adjustable Wheel Mount
Tools and screws included
Assembly Instructions
Free UK Delivery on all Trak Racer TR8 Cockpits.

Free Click & Collect from our Metro Centre Sim Racing Showroom (NE11 9XW) from 2 hours of ordering.

Free Same Day Delivery to selected postcodes in Tyne & Wear, Durham & Northumberland - please contact us to confirm eligibility.

All Trak Racer Sim Rigs are delivered in 1 working day of dispatch, by DPD Express Next Day. Delivery is fully trackable online and provides a 1-hour delivery window. The online DPD tracking information is sent to you prior to the delivery.

Delivery to Isle of Man, Channel Islands, Scottish Highlands & Scottish Islands may take an additional working day.

If you have any questions, please call us or email deliveries@upshiftstore.co.uk and we will help.

| | |
| --- | --- |
| Delivery location | Cost |
| UK & Northern Ireland (Mainland only) | FREE |
| UK Other (Channel Islands, Scottish Highlands & Scottish Islands, Isle of Man) | £49.99 |
| Ireland (Republic of Ireland) | £49.99 |
| | Email |

If you have any questions, please contact us by Email (

sales@upshiftstore.co.uk

),  Call 0333 577 1242

 to speak to an Expert Sim Racer, or use our

Live Chat or DM us on Messenger to chat with an Expert Sim Racer - our Sim Racing Experts are here to help you!
run By Sim Racers, For Sim Racers
Upshift is run By Sim Racers, For Sim Racers! Our team of Expert Sim Racers are here to help you with any questions you have!
FREE & FAST delivery
FREE UK delivery on most items. Immediate dispatch so your order arrives quickly and in perfect condition, using DPD and other reliable delivery companies
secure 256-BIT SSL
Shop safely. We have 256-bit SSL protection so all your payments are 100% secure