The Trak Racer RS6 Mach 5 with GT Style Seat is a fantastic Sim Racing Cockpit, finished in stylish Matte Black. This fifth generation (Mach 5) of the RS6 features a number of improvements, making it even better! Featuring a seat from the range of Trak Racer's popular seats, this is a great rig for sim racers looking to upgrade from a desk or wheelstand. Also consider the Trak Racer TR8 PRO.
The frame/chassis of the RS6 is designed to be strong, so it will be stable during gameplay, even when using powerful FFB wheels. There are also additional accessories available for the RS6, and Monitor stands, so if you want to customise your setup further then that's easily possible.
The RS6 includes a left/right side Gear Shifter mount as standard (this is an additional accessory on many other Sim Racing Cockpits), and the whole rig is highly adjustable, including the adjustable pedal deck, multi-level seat brackets (allowing for some recline adjustments), a seat slider, the aforementioned left/right side gear shifter mount, and Trak Racer's fantastic multi-point steering wheel mount. These super levels of adjustability allow people of all different heights and sizes to find their perfect driving position, so you are able to focus fully on racing, and not be distracted by an uncomfortable seating position or wobbly mounts.
The Trak Racer RS6 Mach 5 is a great sim racing cockpit: strong, adjustable, comes with a gear shifter mount included and lots of extra accessories available. Consider also the TR8 PRO which is even stronger than the RS6, perfect for powerful racing wheels and pedals!   





Trak Racer RS6 Mach 5
The Trak Racer RS6 is a fully adjustable gaming machine! Featuring an adjustable pedal plate, wheel mount and bucket seat, the RS6 is pre-drilled for all the big name brands and will see you competing at the highest level in no time!
The RS6's 2" iron construction will ensure stable gameplay with direct drive wheels and more! Bolted to the chassis, the wheel Deck on the improved RS6 will prove to be the strongest amongst its competition. After its overall stability, the wheel deck is the stand-out feature of the RS6 with height adjustment and the ability to slide 30mm enabling the perfect grip and angle adjustment that gives you the most comfortable driving position.
The RS6 pedal deck gains its strength from the underside of the frame. It is adjustable with its sliding feature up to 100mm and has angle adjustment for the most comfortable driving position of any simulator on the market. The included shifter mount incorporates 2-point slide and angle adjustment.
At Trak Racer, we know you hate movement during competition, which is why our cockpits have been designed and tested alongside the worlds strongest and most professional peripherals on the market.
Trak Racer RS6 Mach 5 Dimensions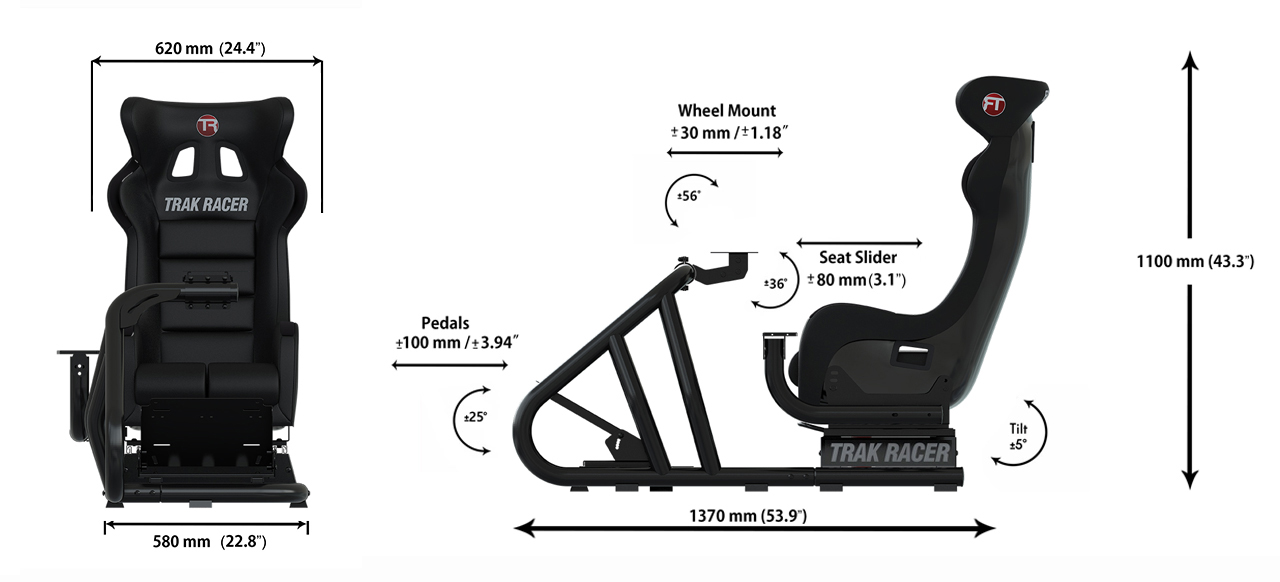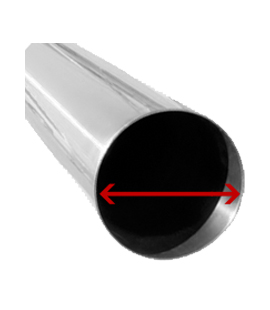 Rock Solid Construction
The chassis of the RS6 is constructed from 2" diameter (50.8mm) iron tubing.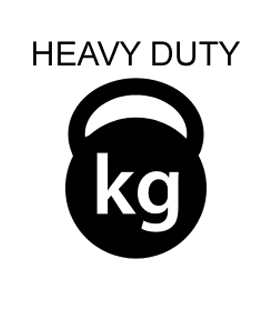 The Strength is in the Materials Used
The RS6's strength sets a new standard and it's weight confirms it at a heavy 37kgs (with seat).
Left or Right Side Gear Shifter Mount
The adjustable angle and slide allows you to position your shifter to the perfect position.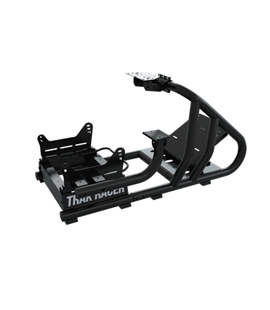 Small Footprint & Suitable for All
The RS6 has been designed for both large and small spaces however suitable for all heights.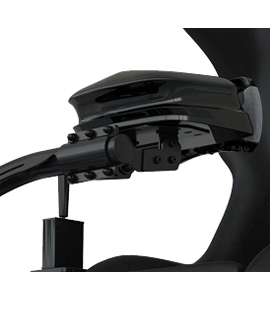 Adjustable Steering Wheel Mount
Adjust the angle of almost any wheel to suit your perfect driving position. Wheel not included.
Reinforced
2" Iron Chassis
The RS6's 2" Iron Construction will ensure stable Game Play with Direct Drive Wheels and more. Following the launch of the RS6 Mach 1, we found many of our clients that purchased also had a high-end wheel. What we did was add an extra support, increase welding and increase material thickness.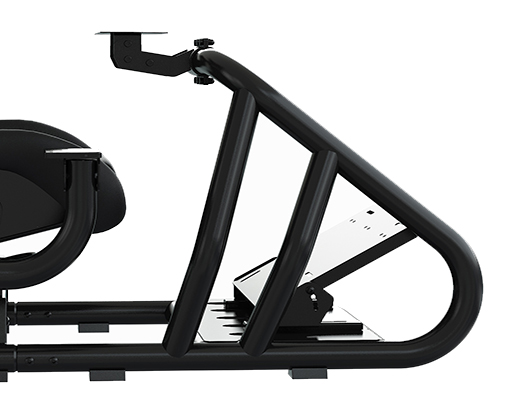 Left/Right Side Shifter Mount
The included shifter mount incorporates 2-point-slide and angle adjustment functionality. Pre-drilled mounting points for all the major brand wheels including Fanatec, Logitech, Thrustmaster and more.