FREE UK Delivery
FREE Click & Collect


We're delighted to present the Cube Controls CSX-3 Sim Racing Steering Wheel, the successor to the hugely popular flagship Cube Controls CSX-2.
The all-new Cube Controls CSX-3 comes with either 4 paddles or 6 paddles (the 2 extra paddles can be purchased separately at a later date also) and the wheel is available with either Black or Blue accent colouring. The wheel measures 282mm in length, grip-to-grip.
The CSX-3 pushes the boundaries of sim racing wheels further, with improved ergonomics such as a new full-colour touch screen display and their new magnetic Q-conn connection. Highly requested by CSX-2 fans was SimHub compatibility, and so we're pleased to confirm the CSX-3 is natively compatible with SimHub.
For sim racers that want a formula sim racing steering wheel that is feature-rich and with exquisite design, the Cube Controls CSX-3 is the choice for you.
The most beloved steering wheel is back with its third iteration.
CSX-3 is designed to push the boundaries of the premium experience further and fulfil the expectations of a real racer.
Featuring Q-conn connection, customisable RGB LEDs buttons, full-colour touch-screen LCD display, and completely renovated electronics. 100% pure carbon fibre front plate, CNC aluminium main body, knobs and joystick. Optional extra paddle set.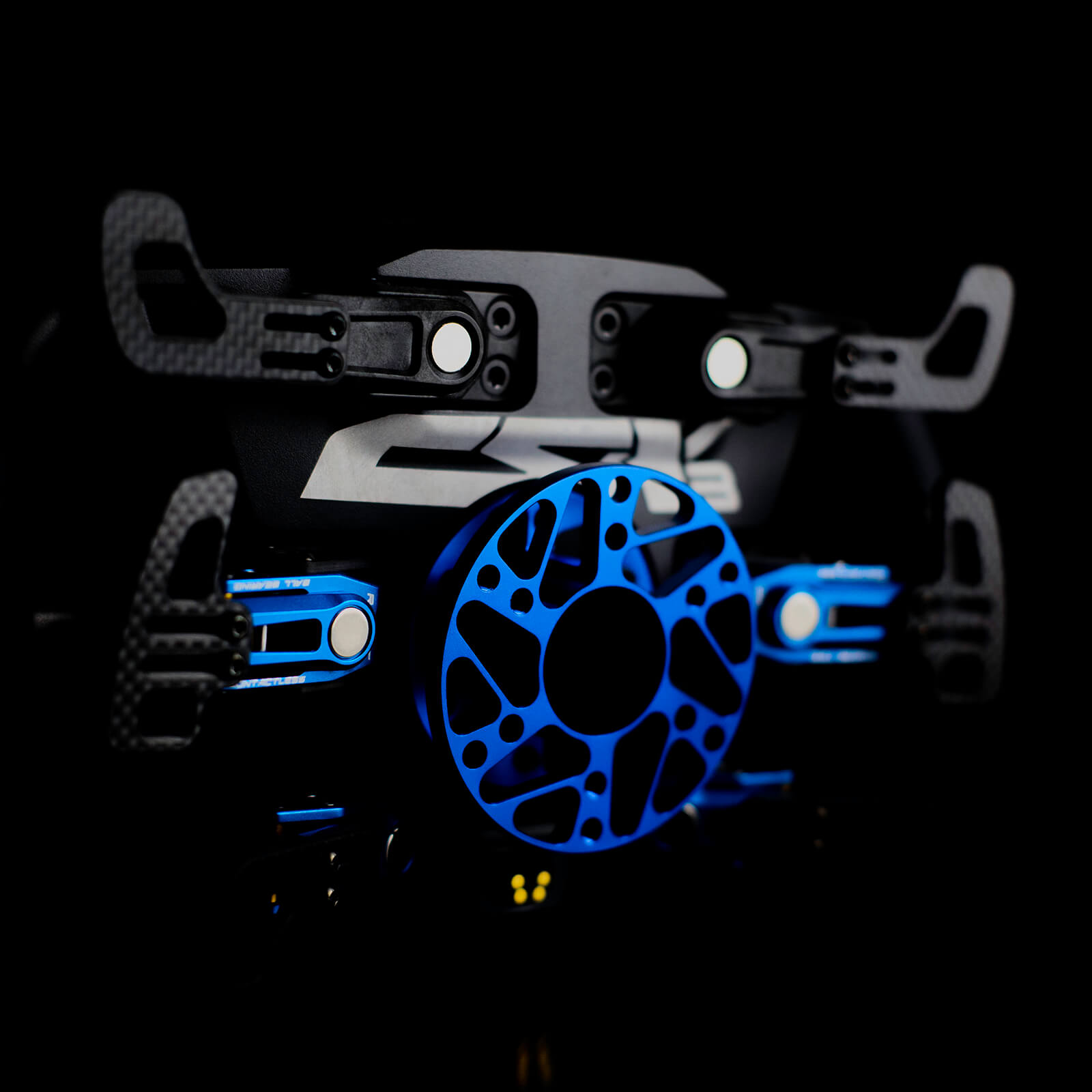 Empowering your racing skills

CSX-3 is the highly recommended choice for a top-tier racing performance. It incorporates all the benefits of the best F-PRO features combined with the game-changer options of a steering wheel with display, now touch-screen for faster interactions. Thanks to the compatibility with SimHub, the customisation of your dashboard layouts and RGB LEDs guarantees a whole new level of possibilities. The optional paddle set in CFRP (carbon fibre reinforced polymer), will secure total control over your race.
| Cube Controls Formula CSX-3 | |
| --- | --- |
| 4″ 800×480 LCD with touch screen | ✔️ |
| Native Simhub support | ✔️ |
| RGB LEDs | 17 |
| All buttons, dials and LED bars compatible with Simhub via a dedicated plugin | ✔️ |
| Optional set of extra CORE paddles | ✔️ |
| Momentary buttons | 12 |
| On/off toggle switches with status led | 2 |
| Grip-to-Grip wheel length | 28,2 cm |
| Grip max diameter | 45 mm |
| Proprietary custom-made tactile button assembly | ✔️ |
| Improved button guards with better ergonomics and feeling | ✔️ |
| Straight back charging connector | ✔️ |
| Backlit buttons | ✔️ |
| Clutches | ✔️ |
| Front rotary encoders | 4 |
| Thumb rotary encoders | 2 |
| Thumb rotary encoders integrated into the grips | 2 |
| Launch control clutch system | ✔️ |
| Multi-directional joystick with integrated encoder | 2 |
| On/off pushbutton on the backside of the wheel | ✔️ |
| In-software clutch and shifters configuration | ✔️ |
| Pure carbon fibre front plate | ✔️ |
| Wheel hub compatible with standard formula-style quick-release hubs (3 bolts, 1-inch and 70mm PCD) | ✔️ |
| Weight | 1143 gr |
| VR friendly | ✔️ |
| Q-conn magnetic connection cable | ✔️ |
| Customizable RGB LEDs buttons and dials | ✔️ |
| Completely redesigned zero-play short-throw custom-designed magnetic switchless shifter paddles with adjustable stop ends, ball bearing & improved tactile feedback | ✔️ |
| Die-cast aluminium main body | ✔️ |