PRE ORDER
FREE UK Delivery
FREE Click & Collect
We're delighted to present the Cube Controls F-PRO Sim Racing Steering Wheel, ideal for a sim racer that wants a premium formula-style sim racing wheel without an integrated display.

Discover our Cube Controls F-PRO. This updated Formula steering wheel features a USB+Bluetooth Dual-Mode connection and completely customisable RGB Backlit buttons giving you an unprecedented level of freedom. Featuring double joystick, magnetic connectors, custom-designed magnetic switchless shifter paddles with adjustable stop ends, ball bearing and improved tactile feedback. 100% Carbon Fibre front plate. Die-cast aluminium mainbody.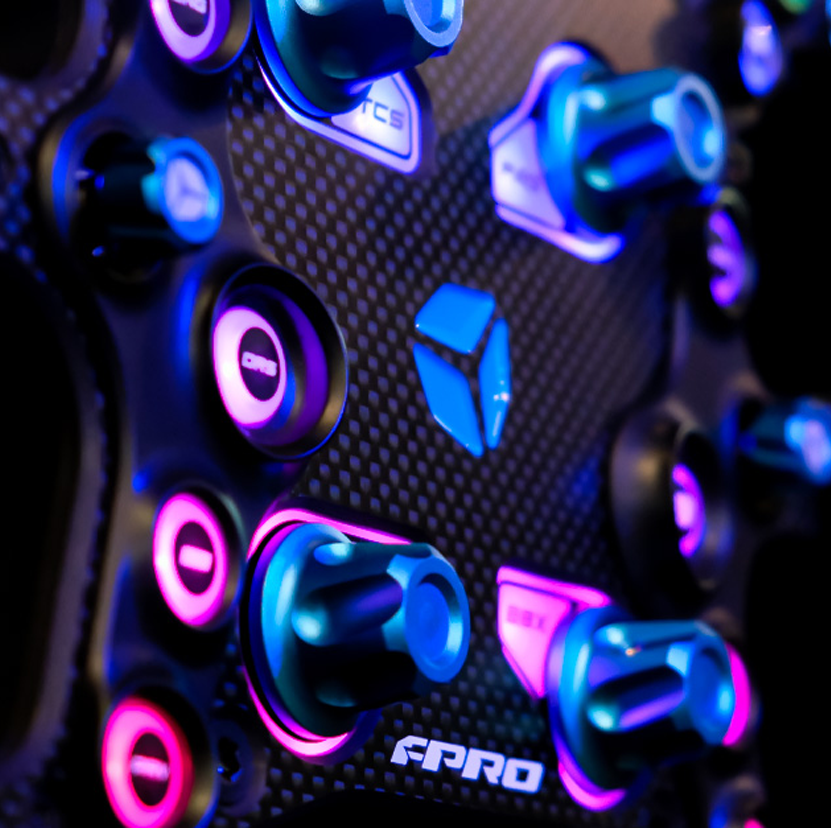 The Next-Gen steering wheel
With F-PRO, a new generation of Formula Cube Controls steering wheels is born. This model combines the most requested updates from our community, creating an extremely versatile product. F-PRO is now Dual-Mode and guarantees superior compatibility without giving up options. The magnetic coupling of the new Q-Conn connector also protects the steering wheel by avoiding stress on the power cable during battery charging and racing sessions in USB mode. Its RGB buttons are individually configurable with infinite colour combinations to make your sim experience even more unique.
Cube Controls Formula F-PRO




Momentary buttons
12




On/off toggle switches with status led
2




Grip-to-Grip wheel length
28.2cm




Grip max diameter
45mm




Proprietary custom made tactile button assembly
✔️




Improved button guards with better ergonomics and feeling




✔️

Straight back charging connector
✔️
Backlit buttons
✔️
Clutches
✔️
Front rotary encoders

4

Thumb rotary encoders
2
Thumb rotary encoders integrated into the grips
2
Launch control clutch system
✔️




Multi-directional joystick with integrated encoder
2




Integrated charging electronics







✔️




LiPo battery, up to 40 hours of use




V 2000mAh




Connection and battery status LEDs







✔️ 

(green when charged, red while charging, yellow when out of power)




On/off pushbutton on the backside of the wheel




✔️







In-software clutch and shifters configuration




✔️




Pure carbon fiber front plate




✔️




Wheel hub compatible with all formula-style quick release hubs (3 bolts, 1-inch and 70mm PCD)




✔️




Weight




1100 gram




VR friendly




✔️




USB+Bluetooth Dual mode




✔️




Q-conn magnetic connection cable




✔️




Customizable RGB LEDs buttons and dials







✔️




Completely redesigned zero play short-throw custom-designed magnetic switchless shifter paddles with adjustable stop ends, ball bearing and improved tactile feedback




✔️

Die-cast aluminium main body
✔️