Getting Started in Sim Racing 2023
Many people have taken up sim racing lately, whether it's to supplement their real racing / driving with simulator time, to race competitively on iRacing/ACC, or for the sheer enjoyment of racing around laser-scanned tracks in a plethora of real racing and road cars, sim racing really has so much to offer.
And we think it's the perfect time for you to Start Sim Racing...
Current F1 World Champion Max Verstappen and fellow F1 driver Lando Norris are two mega sim racers, and admit that sim racing helped refine their racing skills! We can't think of another real life sport and corresponding esport with such strong synergy.


Sim Racing allows you to race against your idols - literally. Whether it's finding yourself in a iRacing lobby with a Formula 1 / IndyCar / Nascar driver, or hot lapping against the ghost times of a famous driver - you can pitch yourself again your idols and see how close you are.

F1 teams rely heavily on their 'simulator drivers' who provide vital information for the F1 team on the setup and behaviour of their car. If F1 teams use the technology, then it shows the tangible value that a racing simulator provides, and so these are a must for all racing drivers and racing fans.





Top sim racers are making a living from sim racing - and in some cases a good living too! F1 teams have eSports F1 teams, and there are online championships with prizes of up to $500,000, and popular Twitch streamers can earn a lot too.
Sim Racer Enzo Bonito beat an ex-F1 driver Lucas Di Grassi at the Race of Champions in an on-track duel - proof that sim racers can have skills on the track as well as the sim

✊


 
Many people have taken up sim racing lately, whether it's to supplement their real driving with simulator time, or to race competitively on iRacing/ACC, or for the sheer enjoyment of racing around laser-scanned tracks - sim racing really has so much to offer.
However, we know that the process of getting started in sim racing isn't easy! 
Lots of people struggle to get started, and it's because of these 3 main reasons:


1) There is A LOT of choice
Sim Racing is continually becoming increasingly popular and more and more people are getting involved - more customers means more money for brands, and so as the sim racing market grows more manufacturers will try to sell your their products. Nowadays, there are a lot of products in the market so it's very easy to get confused and not know which product is best for you.


2) Most of the products are expensive! 
If you want a proper sim racing setup, you will be spending several hundred pounds to several thousand pounds - basic Direct Drive wheels start from £800, a decent sim rig starts from £500, plus a seat usually from £250 and accessories cost from at least £50/£100 each! Add it all up, and you realise you have spent a lot of money! With this in mind, you really want to ensure what you are buying is right for you, and avoiding wasting money on something you don't need.


3) Compatibility
The amount of different products that aren't compatible with each other is insane. Whether it's a wheel that works only on a specific platform, or a rim that won't fit, shifter or a rig (we sometimes say rig, other times we say sim rig, they mean the same thing) with pre-drilled holes for specific brands - you need to consider all of this when deciding what you buy. 
Ultimately, it can make choosing what you want really difficult.
This is why we made Upshift.
Upshift is Run By Sim Racers, For Sim Racers.
We know the problems you will have, we've been there. Using our years of experience, we can help you navigate through the confusion and our expertise will allow us to advise you on the optimal products that meet your individual needs. We want to share our knowledge & advice with you, in our guides (like this), our reviews, and our Live Chat.
Upshift is a selective storefront that only sells products we deem worthy and sufficiently high quality - as such, you can be confident that any product you find on our site is up to par.
In this guide, we're going to go through all the things you need to consider when deciding to get into sim racing. One thing's for sure, all of these products are fantastic, they all massively improve your experience - it's just about finding the right ones for you.
1) Firstly, choose your Simulation Games!
This is the first step, and fortunately nowadays to have so many amazing racing games, that really don't cost that much either! We'll refer to these simulation games as 'sims' from now on.
There's games Formula 1, GT racing, Rallying, Touring cars, NASCAR, Rallycross, Karting and Drifting. Whatever your discipline, there's bound to be a host of great sims available for your enjoyment! This is one of the many reasons sim racing is so popular nowadays, and as sim racing continues to prosper, so will the variety & quality of the sims.
There are 3 main gaming platforms: PC, Xbox and PlayStation.
If you're a keen sim racer who wants the ultimate racing simulator with true-to-life physics and the highest graphical quality/frame rate, then you need to be using on a gaming PC.
Gaming PCs are more powerful than gaming consoles, and many of the best simulation games are available exclusively on PC (though some are available on gaming consoles too). 
Some highlights of PC simulations include Assetto Corsa Competizione, iRacing, rFactor 2, Automobilista 2, KartKraft, RaceRoom Racing Experience. These are all PC games available for purchase from Steam and all offer (as near as possible) true-to-life simulation. Whilst a gaming PC is a big investment, we do believe it is a very worthwhile investment for any sim racer who seeks the most authentic sim racing experience. You can also install additional software on a PC to enhance the experience even further.
If you have a PlayStation 5 then Gran Turismo 7 is the king of racing simulation on this platform. Other popular games include F1 2023, Project Cars 2 and Dirt Rally 2.0.
Likewise if you have an Xbox Series X, then the upcoming Forza Motorsport game will the king of racing games for this platform. But again, F1 2023, Project Cars 2 and Dirt Rally 2.0 are all good games. Forza Horizon 5 is less of a simulation racer, but is still great fun with a racing wheel and is so popular we had to include it, and its handling model is certainly far more realistic than the likes of Need for Speed and Burnout.
The sims you buy will depend on the platform(s) that you have: PC, PlayStation or Xbox. Some games are available on all platforms (e.g. F1 2023) whilst others are available on one platform only (e.g. Gran Turismo 7 is exclusive to PlayStation, iRacing is exclusive to PC), so do factor this in.
Most sims can be purchased by a one-off fee (typically £30-£50) and then will likely offer additional content in the form of DLC, which is charged as extra (often only a modest fee like £10). 
An exception is iRacing, which uses a subscription model where the user pay for a timed subscription to the service with a selection of free cars/tracks, and other cars/track are available to purchase for a modest fee. RaceRoom Racing Experience is a free to play sim without any subscription fees but employs the same content purchasing mechanism as iRacing. We encourage you to try as many sims as you can, each plays differently and has its individual charms.
Now you know what games you want and so what platforms you will be using, this lets you decide what racing wheel & accessories you will buy....
2) Racing Wheels
Wow - is there a lot of choice when it comes to racing wheels, and boy is that a good thing! We're spoiled for choice these days, so to try and filer through the options we'll broadly categorise all wheels into 4 different types:
1) Wheels with NO Force Feedback 😡
Frankly, we think these types of wheels are rubbish! Often cheaply built, ugly, tacky and if you're lucky, come with with rumble feedback. We think they're meant only for young kids and so we don't and never will sell any wheels from this category.
2) Wheels with Basic Force Feedback 😐
These types of wheels cost from about £150 to £300, and are considered a good starter for most people. Examples include the Thrustmaster T248 and Logitech G923. The Force Feedback is basic and fairly uncommunicative, but it does have some strength (not nearly as much as you we think you need).
The wheels still tend to be quite cheaply built, with basic designs and cheap materials used. These wheels also have limited compatibility with accessories too, so they are not suitable for someone who wants to expand their setup with shifters, handbrakes etc. Also, generally the cheaper wheels tend to be slightly less reliable; not unreliable, but just typically not as reliable as an expensive wheel. 
Again, we do not sell any wheels from this type as we believe you're better spending more money on a superior wheel that feels like you're actually driving and car, not like a toy.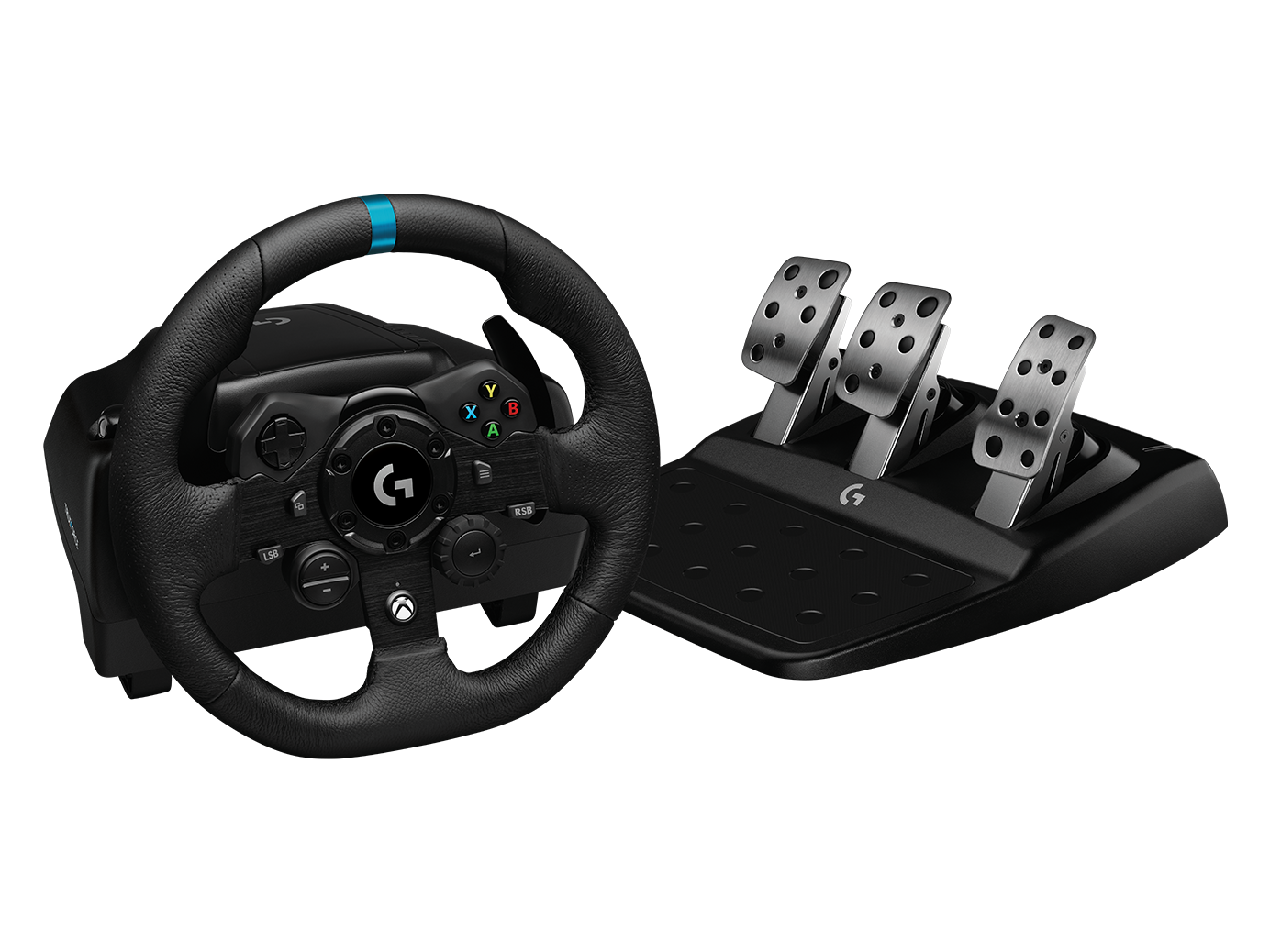 3) Small DDs / Wheels with Powerful Force Feedback 🙂
This is where the fun really begins! These types of wheels cost from about £500 and are the premium mass market wheels. They provide strong and detailed Force Feedback, with a more expensive design utilising more premium materials.
If you want to start taking sim racing seriously, we believe here is the place to start. 
This segment is now dominated by a range of lower-powered Direct Drive (DD) wheels, the so called entry-level division of DD wheels that we're going to call small DDs. These small DDs offer many of the perks of a premium Direct Drive wheel, the main difference being that the wheel motor is smaller so the peak torque levels are lower (usually <10Nm). Direct Drive wheels are a game changer, and are undoubtedly the best racing wheels you can buy. Whether you choose a small DD, or a range-topping DD as we will discuss in the section below is down to your budget and requirements.
Examples of small DDs include the Fanatec CSL DD (pictured below) and the Moza R9.
4) Large Direct Drive wheels 😁
Direct Drive wheels are awesome.  These wheels provide the highest quality force feedback - not only in terms of raw strength, but in terms of detail in the behaviour of the wheel, giving unparalleled feeling and communication. Many of these type of DD wheels (dependent on the strength of the motor) can provide more power than most actual cars deliver through their steering wheel!
We maintain that you can still have an enjoyable sim racing experience by using small DDs as well as these full Direct Drive wheels, but if you seek a realistic and authentic sim racing experience then we believe you really must consider one of these types of Direct Drive wheel.
Our favourite is the Asetek SimSports Invicta Direct Drive 27Nm Wheelbase (pictured below), other examples include the Fanatec Podium DD1/DD2 and Simucube 2.

Unless you are buying a bundle, a Direct Drive wheelbase like the Asetek SimSports Invicta Wheelbase will also require you to purchase a steering wheel. There are a variety of steering wheels of varying material, diameter, shape and functionality, all intended to suit the variety of racing categories. For example, steering wheels for Rallying are often round and moderate-large diameter, whereas steering wheels for Formula racing/single seater racing are often smaller diameter and open-wheel shaped (i.e. cut off top). Some people consequently choose to have multiple steering wheels, and use these interchangeably depending on what racing category they are using - that is, if they are rallying then they will attached to the rally wheel, and if they then swap to formula racing, they will swap this for their formula wheel. Whilst this isn't mandatory, through the use of quick release adapters, one can easily and quickly switch between steering wheels.
Steering wheels typically start from around £400-£500, and premium wheels with carbon fibre and integrated LED displays can cost £1500 or more - there are some truly exquisite steering wheels out there to complement your wheelbase. If you're on a tight budget, then we believe it is more important to have a high quality Direct Drive wheelbase than having an exceedingly 'fancy' steering wheel. Ultimately, a high quality Direct Drive wheel will make you faster; an extravagant steering wheel won't. But the visual appeal, functionality and immersion offered by a premium steering wheel is undeniable if your budget allows it. 
For professional sim racers who want a very high end sim racing wheel with integrated displays and carbon fibre construction like in the above image (Cube Controls Formula CSX2), check out the likes of Cube Controls and GSI.
In summary, we recommend Direct Drive Wheels to all sim racers who want a realistic & authentic experience. It's no surprise that the best sim racers in the world use Direct Drive, as it allows them to get the clearest & richest information about the behaviour of their car, giving them greater control of their car and allow them to get the final few tenths and thousandths off their lap times.
Direct Drive wheels are the most expensive racing wheel...but that's because they're the best. Once you use a Direct Drive wheel, you will never go back. We believe in this so profoundly that the only racing wheels we sell on Upshift are Direct Drive. 
As we will discuss next, you must however ensure your rig is strong enough to withstand the power of a Direct Drive wheel!
If you have any questions about whether your rig is suitable for use with a Direct Drive Wheel, feel free contact us; we've used all our rigs and know what is and isn't suitable. 
⚠️ Now you have your wheel, you MUST get something to mount it on, which brings us nicely to our third topic...
3) Sim Rig or Wheel Stand?
We have respect for this guy, but in all seriousness he is highlighting a real problem - you need something to securely mount your racing wheel and pedals to! 
You can't mount a racing wheel on your desk (or ironing board!) and then have an enjoyable experience with it, because the average desk isn't strong enough and the desk clamp will be flimsy, so the wheel will more than likely wobble and move under load, distracting you and ruining the experience. What's the point in buying a fancy wheel and pedals if you can't use them properly?
We fundamentally believe that if you want to have an enjoyable & immersive sim racing experience then you need something to mount your racing wheel & pedals to!
Time to decide between a Sim Rig or Wheel Stand
Deciding on which is usually down to 3 factors:
1) Cost 
2) Space in your room
3) How powerful your wheel is (and what accessories you need mounting)
Obviously, a full rig is going to cost more than a wheel stand - a rig is essentially a wheel stand attached to a seat (that's a basic way of thinking about it).
Wheel stands are cheaper than sim rigs, but they still aren't objectively 'cheap'. The most basic wheel stands start from around £150, and the premium wheel stands like the Trak Racer FS3 and Next Level Racing wheel stand are between £150 - £200. For a lot of people (ourselves included) that is rather expensive for something that one could argue is essentially a glorified TV tray!
Wheel stands may be the only choice for people who are very short of space in their room. The big appeal of a wheel stand is that once you are done playing, you simply fold it up, and they fold into a small & compact form that is easy to store in a tight space. So if you are really short on space in your room, but need a mounting solution for your wheel, a wheel stand may be your ideal solution...
However, if you want an authentic sim racing experience and have a powerful racing wheel, we believe wheel stands are NOT suitable. 
They are neither rigid nor heavy enough so the likelihood is the wheel and/or pedal decks will flex, which distracts you and will ultimately slow you down. You are restricted to fewer accessories (with only one mount, you couldn't have both a handbrake and a shifter for example, you would only be able to use one), which again limits the quality of your sim racing experience.
Furthermore, wheel stands also miss out one of the most important parts of racing: the seating position.
Anyone who has ever been in a proper racing car will know that you sit low down in a deep, bolstered bucket seat and in an optimised seating position for easy access to the steering wheel, pedals and any shifters/handbrakes for maximum control of the car. With a wheel stand, it's likely you'll be sitting on a sofa or an office chair.
Direct Drive wheels are become evermore affordable and popular so it's likely that soon you will soon buy one if you don't have one already. Wheel stands generally cannot mount a Direct Drive Wheel; therefore whilst you may save money in the short term by buying a wheel stand, when you come to upgrade to Direct Drive, your wheel stand will be redundant and so you'll need to buy a rig then. If you're spending good money on a Direct Drive wheel, you simply can't waste the whole experience by attaching it to a wheel stand. Forget them and go straight to a sim rig, you won't regret doing so!  
Bottom line: wheel stands are simply nowhere near as good as a sim rig.
As with the lesser racing wheel types we mentioned above, we do not and will not sell any wheel stands as we believe they do not meet the needs of our customers.
Now...we introduce you to the Sim Rig! (also know as sim cockpit, chassis, frame etc)
Sim Rigs are fantastic: they're strong, adjustable, flexible, comfortable, customisable and to be honest, pretty cool looking! They give you a perfect driving position, sat in a comfortable bucket seat with a strong and ergonomically placed wheel deck and pedal deck, many with lots of adjustment so you can adjust it to your liking so you've got all your hardware optimally and firmly mounted in place. With your wheel and pedals firmly mounted in place, and yourself set in a comfortable bucket seat, you can fully focus on immersing yourself in the sim and attack the corners with speed and precision.
Rigs are also very customisable, so you can add multiple different mounts, for anything from shifters/handbrakes to ButtKickers and button boxes. For anyone who wants to take sim racing seriously, and have a fully immersive sim racing experience, a Sim Rig is a must buy. Pictured below as examples are the Trak Racer TR8 PRO and the RSeat C1 Black respectively:
Another tip is that before you buy your rig, you ought to know / have an idea of which wheel and pedals you will be selecting, as ensure that you match them with a sim rig of similar quality.
Upshift's selection of Sim Rigs are all high quality sim rigs that are compatible with a wide range of wheels from the likes of Fanatec, Logitech, Simucube, Thrustmaster and more, so one of our Sim Racing Experts can advise you on the best rig to go with your wheel and pedals.
Stronger rigs will be required for small DD wheels like the Fanatec CSL DD and Logitech Pro Racing Wheel that have heavy and powerful motors, such as the our R-PRO Black Edition sim rig (pictured below) or the aforementioned Trak Racer TR8 PRO.
For high-powered Direct Drive wheels like the Simucube 2 or Fanatec DD1/DD2 then you will need the strongest rigs on the market - specifically an aluminium profile rigs like the popular Trak Racer TR160 (pictured below).


The Trak Racer TR160 and our R-PRO Black Edition Sim Rig are both examples of aluminium profile sim rigs, where the rigs is constructed from (you guessed it) aluminium profiles, often referred to as alu profile rigs or 8020 rigs.
Aluminium profile rigs offer high levels of rigidity and strength, so they are able to withstand the forces from powerful Direct Drive wheels with minimal/zero flex. The key components like wheel mounts and pedal decks are heavily engineered and reinforced for maximum strength, meaning you can really stomp on your high-end pedals with confidence and crank up the torque in your wheelbase to as high as your heart's content! 
If you were to use a cheaper non-alu profile sim rig that was too weak, it would flex and shudder/vibrate which would be uncomfortable & distracting. It's therefore wise to purchase a rigid sim rig like the R-PRO as it's a prudent investment that ensures you can get the most out of your high end equipment.

These aluminium profile rigs are, by design, also extremely adjustable so you are really able to find your perfect driving position, and furthermore their design construction is such that the rigs are modular, in that when you inevitably change your setup, the rig adapts and evolves with it with easy and inexpensive additions/ modifications to the rig (such as swapping wheel or pedal mount, or added reinforcement profiles etc). This makes rigs like the R-PRO a prudent investment, and quite likely the only rig you will ever need to buy!
Aluminium profile rigs prioritise function over form; most people don't think they're the prettiest rigs to look at (beauty is in the eye of the beholder though!), but the principal benefit of aluminium profile rigs is their unrivalled strength and adjustability, allowing the user to attach powerful equipment to them for a zero flex sim racing experience. Our R-PRO Black Edition sim rig is finished in a stylish matt black powder coating and has matching end caps and cover caps provided; the combination of this greatly improves the aesthetic and make the R-PRO a smart & purposeful sim rig.
The choice for you is function versus form - what do you value most? 

Many sim rigs usually have options to buy the rig without a seat, giving you the option to use your own seat. Dependent on what seat you want and seat mounting options, you could go to a scrapyard and pick up a seat from an old Ford Fiesta for £30, you could buy one our sim racing seats designed specifically for racing simulators starting at £179.99, or you could buy an motorsport style Sparco bucket for closer to £500 seat and fit that - whatever option you want! As such, there's loads of potential to customise your rig, which is a bonus.
Our RS1 Recline Seat is pictured below, which is only £179.99 when purchased with our R-PRO Black Edition sim rig:
Of course, a premium motorsport bucket seat will add more cost to the overall setup, but will be more authentic and a great touch to a setup for a motorsport enthusiast.
Our R-PRO Black Edition Sig with our RS1 Recline Seat costs under £480 including delivery, which is a very competitive price that we think you'll find hard to beat!
When buying a seat, you should consider the size of the seat and the bolsters.
In real life, most racing drivers are pretty small, about 65kg and <5"10, so they just slide straight into bucket seats without a problem. With sim racers though, there's a little more variation! And by that, we mean we get people of any and all sizes wanting to start sim racing - be they tall, small, slim or large. So the bucket seat supplied with a rig might actually not be a perfect fit for you. Most manufacturers know this, so make their seats suitable for the average adult; some brands make a variety of seats, to fit people of different sizes and weights. The point we're making is - you need to check the sizing diagrams of the seat, by either using the information we provide or by contacting us, and then whip out the tape measure and measure yourself to to see if you will fit.


But it's not just if you will fit in the seat...it's if you will fit comfortably!
If you're not comfortable in a seat, you won't be able to focus on your racing because you will be distracted by the discomfort - and that lack of focus means you'll miss braking points and apexes and ultimately be slower! It's no surprise that, when racing drivers get their racing seats, they go in for test fittings to ensure the seat is moulded to them so it is a perfect, comfortable and intuitive fit, so they feel at one with the car.

On the topic of seating positions, there's usually the choice between an upright position (typically referred to as GT style position) or a single seater/F1 style position. Obviously, if you're wanting a simulator that replicates the feeling of being in a F1 car, then you will want the single seater/F1 style position. Whereas if you're wanting a simulator that replicates being it a GT car, touring car racing, rally car, rallycross car or equivalent, then you will want the upright seating position.
A picture is worth a thousand words, so let's show some examples.
Firstly, here's a prime example of a single seater/F1 seating position sim rig is the beautiful Sparco Evolve GP Sim Rig as pictured below:
...whereas a prime example of an upright seating position on a sim rig is the equally beautiful RSeat P1 in Neon Green:
Upright seating positions are more easily accessible and versatile, fitting many different types of sim racing games and indeed other simulator games such as flight simulation, truck simulation etc. Single seater/F1 style seating positions are more specialist, so whilst are undoubtedly very cool and offer an amazing driving position, they're less accessible. The upright seating position type sim rigs are more popular as they cater for a wider variety of simulation games/genres. Nowadays there's a variety of excellent sim rigs in the market now, so there's guaranteed to be a rig that meets your demands! To browse our full selection of Sim Rigs, click here.
Trak Racer, Sparco and other companies have a varied range of seats, to suit the varied shapes and sizes of sim racers out there. It is advised to pick a seat from the same manufacturer as the rig to be assured of compatibility, however it is possible to use an aftermarket/3rd party seat on a sim rig providing it fits. We can advise on this with all the rigs & seats we sell, but as a general guide, you will need to ensure that you've sorted out how the seats mounts, gap between mounting holes and width of the seat - in some instances, it can be harder than you may think.
Here at Upshift, we know the measurements of all the rigs & seats we sell, and collect feedback from our past customers about how they fit, and what they think the maximum size and weight is from their experience, so we know exactly whether you'll fit or not, just contact us for help!
We also urge you to look at the accessories you might want for your rig before you buy it. Most sim racers will have a shifter, handbrake and some other accessories (sometimes referred to as 'peripherals') so you will need somewhere to mount them! Most rigs will come with several mounts and adapters (usually as additional extras) for you to attach to the rig, and then mount your accessories to.
If you want a specific Motion Platform from a different company, you need ensure that there is an adapter so it fits with your rig; don't just assume it will be compatible and fit. Is your rig rigid enough for use with one too? Also, check the prices of the accessories: if one rig is cheaper than another rig, but the accessories are more expensive, then the total cost might not be what you think. Most rigs do come complete with a seat, but you may be sold the chassis on its own, and then you must supply your own seat.
It is easy to spend A LOT of money on a rig, so make sure you know exactly what you need, and want! Upshift partners with all the leading rig brands, including Trak Racer, Sparco Gaming & RSeat. Furthermore, our Sim Racing Experts know everything about the rigs we sell, so if you have any questions, get in touch with us and we'll help. Get in touch by Live Chat, Messenger, email or phone. 
Like the advice? Follow Us for Exclusive Promotions, Early Access to Discount Codes and the Latest Guides, News & more!
4) Accessories 
You need to check that the wheel stand / rig / wheel, and any other products will all be compatible with each other. Generally, any proper, high-quality rig (like all those found on Upshift) will be compatible with nearly all wheel manufacturers, and will have with pre-drilled holes for hard mounting of products from major brands like Fanatec, Thrustmaster etc.
There are simply loads of accessories available for sim racing nowadays. It makes our sim racing experience so much more enjoyable, but the massive number of different manufacturers also raises a new dilemma - Compatibility.
Specific accessories work with specific wheels, on specific platforms. It's a nightmare! So you need to decide what wheel you will buy, then that dictates what accessories you can buy. So choose carefully, as if you build up a collection of products by one manufacturer, you are going to be reluctant to buy a product from a different manufacturer as you'll need to start again and change your whole setup - so don't just impulse buy, actually thinking about the whole setup.
Also, consider the warranty. How long is it, what does it cover, and so on. You should consider all of the details mentioned in this section, to be sure that you are buying the right wheel for you.
Fanatec accessories won't work with Thrustmaster products, which won't work with Logitech products...generally, if you are buying one product from one brand, you need to buy the rest of your peripherals from them. Though some accessories will work with other manufacturers products when used on PC, but not on console.
Also, if a wheel is compatible with an Xbox, it generally means it won't be compatible with a PlayStation and vice versa (though there are exceptions to that). Most wheels are compatible with PC. And for all you Apple fans out there, when we say PC, we mean Windows PC, exclusively.
Some manufacturers have an 'Ecosystem' - a group of their products that are cross compatible thus eliminating compatibility woes between their different products. So when you buy a Fanatec wheel, you are encouraged to buy Fanatec pedals and other accessories; likewise if you buy Thrustmaster wheels, you buy Thrustmaster accessories.
We strongly advise you to think of the full picture before you buy one of these products - usually, once you buy one product, you stick with that manufacturer for everything else.
Here we will highlight some of the Best Accessories for Sim Racing, including Immersive Tactile Shakers, Motion Actuators, Seat, Motion Platforms, Monitors, Shifters & more.
Tactile Shakers
ButtKicker Gamer Plus

The ButtKicker Gamer Plus is an awesome piece of kit - it's 'half-way' towards a motion platform with respect to the immersion yet for a much cheaper cost than your standard motion set. ButtKickers lets you feel the bumps of the track and rumble strip, and when you clout of the kerbs, and the vibrations of your engine by sending powerful vibrations through your seat/rig. Factory software is adequate, but there's loads of options available (free and paid). We recommend SimHub. Suffice to say, once you've used ButtKicker, you'll never go back.
Honourable mention for the Reckhorn BS-200i is a smaller unit that is also a popular option.
Steering Wheel Rims

A Direct Drive wheelbase is nothing without an equally good wheel. There's a wide variety of wheels available, many costing as much as the Direct Drive motor itself. Our recommended wheels are Cube Controls, built using the highest quality components to be durable and robust racing wheel and finished with premium materials and exquisite designs. For those with larger budgets, we like the Cube Controls CSX-3 (pictured above) and GSI.
Monitor Stands
Trak Racer Monitor Stand (free standing)
Monitor Stands come in 2 types: free standing and integrated. Integrated is better for people short of space, who want a convenient attachment that will mount their monitors on their rig with a smaller footprint. However, if you are planning on using a tactile shakers / ButtKickers we generally do not advise using an integrated stand, because the monitors will also vibrate with the rig and their fixings may loosen over time.
Free standing monitor stands are more versatile, allowing you much more adjustability (as the name suggests, you can literally move it wherever you want), so tend to be the most popular. Furthermore, when properly setup their footprint can still be small, so they too are space efficient (but objectively less so than their integrated counterparts.)
Trak Racer sell a variety of Monitor Stands - single, triple and quadruple, each with differing width and a choice of integrated/free standing. They are all very strong, adjustable, and customisable - essentially, there are options for every stand type you could want and they do everything you could want a monitor stand to do!

If you are going to spend thousands of pounds on a top sim racing setup, then you need a good display, or else what's the point! There are a number of key factors in choosing a suitable gaming monitor, the most important being a high refresh rate (ideally 144Hz or higher) and minimal input lag (<4ms). Resolution, so long as it is at least Full HD (1080p), is really not that important - don't get too obsessed over 4K resolution.
There are 2 general pathways people choose for monitors:
1) Triple monitors:  from our experience and feedback from customers, the AOC C32G1 and Benq EX3203R are both very good monitors, either as a single (or more often) part of a triple monitor setup;
2) Single Ultrawide monitor: these monitors have a unique and striking form factor, require much less effort in their setup (versus triples), have fewer cables so wiring is less cumbersome so are favoured by many. A popular example is the Samsung Odyssey G9


Monitor Actuators
Qubic System QS-220-PL Actuator Set

Introducing the Qubic System QS-220-PL, an industry-leading motion actuator set. The QS-220-PL actuators offer performance unmatched by anything else in the market, with an outstanding 800mm/s maximum velocity! This higher velocity figure transforms the motion experience; the motion feels more energetic and vigorous, much more like the physical experience of driving in reality. Combined with the maximum acceleration of 0.8G (limited for safety, not by hardware capability) and 100mm actuator stroke, these performance figures translate into providing a highly immersive & authentic motion simulation experience.
Sim Racing Seats

A good seat is a necessity if you want an authentic and enjoyable sim racing experience; a good fibreglass bucket seat starts at around £300, and rises to well over a thousand! Entry-level price point seats like the Motamec GT02 (and their GT seat range) are great fibreglass seats for those on a limited budget. If your budget is higher, then the a Sparco Sim Racing Seat offers true authentic motorsport design & heritage, examples being the Circuit II or EVO L, offering a premium & authentic racing design and finish quality.
We know all our seats inside out, so we welcome any and all questions about them. We're here to help you choose the right seat for your setup.
Motion Platform
If you are wanting the hands-down most realistic and authentic sim racing experience, and you've the budget to facilitate this, then we've got a treat for you: introducing the Qubic System QS-S25: the Ultimate 6DOF Racing Simulator
VR Headsets

Pictured: Oculus Quest 2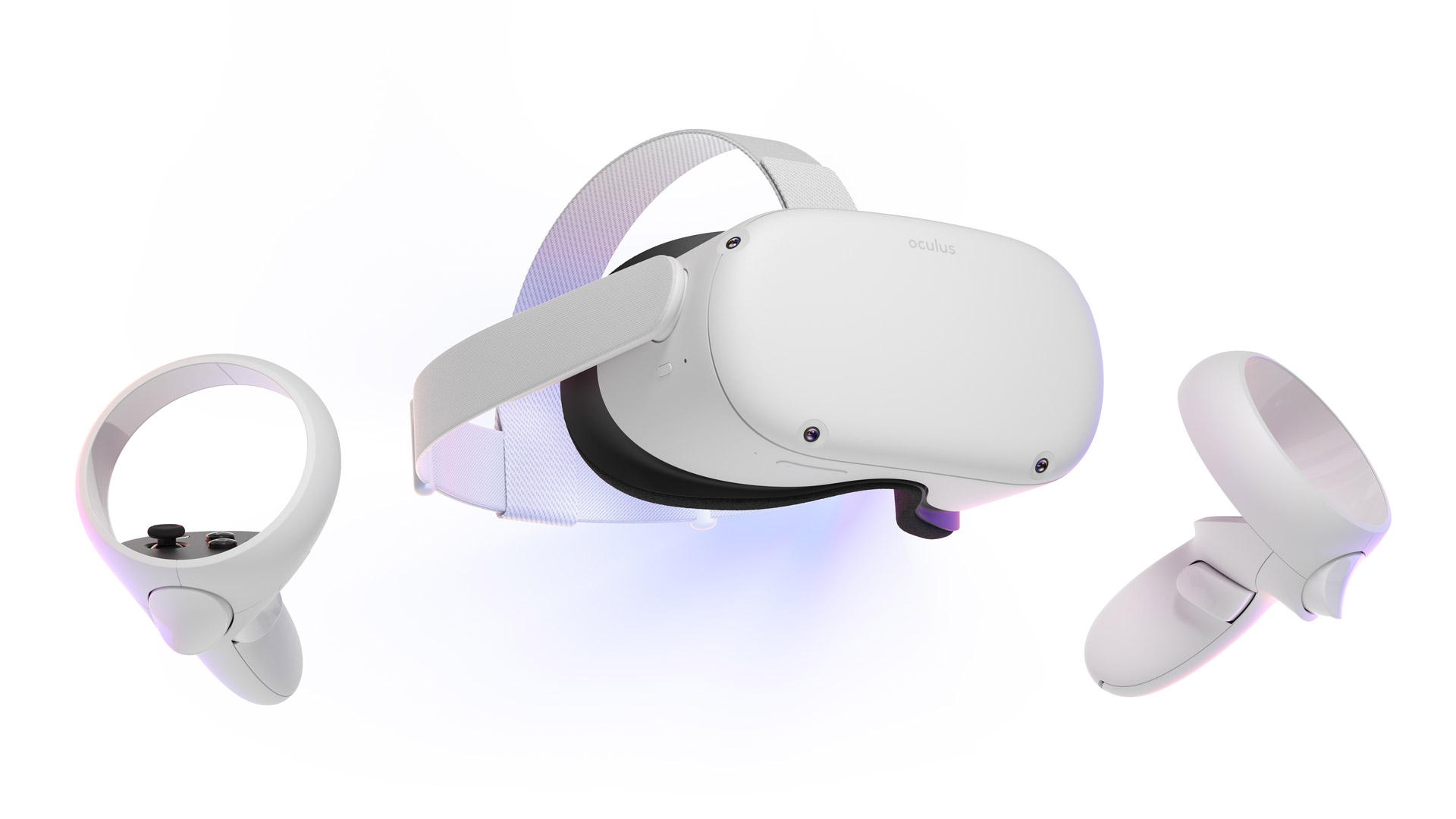 Recommending a good virtual reality headset is quite difficult because it's often quite subjective. Different headsets have different FOV (field of view) and different resolution; one user may prefer a wider field of view, and the next, entirely the opposite. We think that virtual reality headsets are still an emerging technology, that are great for a short usage as they do offer unparalleled and remarkable immersion, however we think they can be unsuitable for solo use (i.e. as a full time replacement for a monitor) as they can be uncomfortable to wear for extended periods of time. Furthermore, without motion compensating software, motion sickness can impact your experience. VR headsets will continue getting better and better, and become ever more affordable in the future, so they're only going to get better and better. Popular choices being the HP Reverb G2 and Oculus Quest 2.
Shifters
Budget: Thrustmaster TH8A (pictured below, top)
Mid-range: Fanatec SQ 1.5 / VNM H-pattern
Premium: Frex GP Hshift+ 2018 (pictured below, bottom)
The Thrustmaster TH8A is by no means a new product, but it is a good shifter for the money. It features as both a manual H-pattern and sequential shifter: manual is 7 forward gears + reverse, and switching to sequential shifter is an simple process.
More expensive shifters such as the Frex GP Hshift+ of course improve materials, shift feel and durability substantially, but this is reserved mainly for the aficionados and manual enthusiasts who typically have large budgets to spend on peripherals; the majority of sim racers use the wheel-mounted shifter paddles or a sequential shifter, pure manual transmission cars are becoming ever rarer these days (in reality and sims).
Pedals 
Entry Level: Thrustmaster T-LCM / Fanatec Clubsport Pedals V3
Premium Loadcell: Simagic P1000 or Asetek Forte
Premium Hydraulic:  Asetek Invicta
When it comes to authentic driving, you MUST have a good set of pedals - in our opinion, anyone can learn the racing line and how to turn a steering wheel, however the very best drivers who get the most speed from the car master their inputs of the accelerator and brake pedal; that is, being earliest on the throttle and latest on the brakes. Therefore, a good set of pedals is a crucial part of any sim racing setup, and one that we place high emphasis on.
Our favourite pedals are the Asetek Invicta pedals which offer a truly authentic and realistic brake pedal feel like in a racing car. For those on a lower budget, Thrustmaster T-LCM and Fanatec Clubsport v3, and intermediate options being the Asetek Forte & Simagic P1000 pedals.
5) Over to you now...
If you've made it this far, well done!
We hope you gained value out of our ramblings, and by now you should have everything you need for your new Sim Racing Setup.
If you've got any specific questions, our Sim Racing Experts are here to advise you on the best product(s) for your individual requirements and can provide tailored advice to you.
You're now fully prepared to enter the world of sim racing!
Along the way you'll meet some great people, no doubt have successes and failures, but who knows - it could be you who wins the big championship prize!
Upshift will be here all the time to help with all your Sim Racing needs.
See you on the virtual track!
Follow Us for Exclusive Promotions, Early Access to Discount Codes and the Latest Guides, News & more!
Disclaimer: The views, thoughts, and opinions expressed in this text belong solely to the author, and do not represent the views of Upshift Store Ltd or any of its employees or contractors or other groups/individuals.